Thursday, 01 December 2011

Several major political parties in Switzerland want a referendum to prevent the country to buying the 22 Gripen aircraft from Sweden which its government announced yesterday in a press conference.

---
Wednesday, 30 November 2011

After the attack on the British embassy in Tehran, Norway has chosen to close its embassy in the Iranian capital.



---
Wednesday, 30 November 2011

Danish Finance Minister, Bjarne Corydon (pictured) is now worried about the state of the Danish economy. He said that Danish economy is now in trouble after report today out today that growth in Denmark shrank in the third quarter by 0.8 percent


---
Tuesday, 29 November 2011

Swedish house prices are falling faster and more than official data show. Housing prices in Stockholm for example have fallen much more than what official statistics indicate.

---
Tuesday, 29 November 2011

The expert psychiatrists, Synne Sørheim and Torgeir Husby have had a total of 13 calls with 32-year-old Breivik to come to the conclusion about his mental condition.
---
Tuesday, 29 November 2011

Fewer foreign-born students living in Sweden are finding it hard to find their feet in with the Swedish school system. As such the gap between the Swedish-born and the foreign born in school has increased strongly in the recent past years.

---
Tuesday, 29 November 2011

Sweden's economy grew unexpectedly quicker in the third quarter, with exports driving the economy more but the figures for the first and second quarter was revised down.

---
Monday, 28 November 2011

The value of Sweden's total exports of goods amounted to Skr 912 billion during the period January to September, measured in current prices, an increase of 10 percent compared with the corresponding periods of 2010.

---
News headlines from some external sources
---
Monday, 28 November 2011

Nature clinched its fist last night and hit the Nordic coastline regions of Sweden and Norway leaving behind a trail of major traffic disruptions and electricity cuts.

---

Monday, 28 November 2011
"For me, the nigger a nigger! It should not be an insult to be called nigger. There's the red race, the yellow race and I'm of white origin.


---
Sunday, 27 November 2011

More than four elderly men a week commit suicide in Sweden - several times more likely than women of similar age.

---

Sunday, 27 November 2011
Swedish central bank, the Riksbank has threatened to still maintain its interest rate growth increases, despite the deepening debt crisis and impending collapse of the euro.
---
Saturday, 26 November 2011

Europe debt crisis has brought some supposedly better performing countries into gradual growing pain. This means that the rating downgrades will affect households in the countries affected with mostly cuts in welfare.
---
Friday, 25 November 2011

A secondary school in Norway has chosen to divide students by ethnicity. The Education Council of the City of Oslo could not believe their ears.
---
Wednesday, 2
3 November 2011

The Swedish economy is good compared to other EU countries and there is the shortage of contain types of skills. Therefore, Sweden is the best place to go and seek work and this is the trend.


---
---
Tuesday, 22 November 2011

The Swedish fearful ultra radical far right political part, the National Democrats are canvassing for more members into their organisation and are now advertising on Facebook, according to Swedish media reports.
---
Tuesday, 22 November 2011

Sweden don't really needs Danish advice because their had their own experience back in the 1990s as such if their memory is not as short as ours, then they really need to sit up and look back.

---
Tuesday, 22 November 2011

Approximately 345,000 people, or 6.9 percent of the Swedish workforce, were unemployed in October.
---
---
Monday, 21 November 2011
The euro crisis has pushed forced the Norwegian banks' costs so much that the policy rate may be lowered, according to Norway's central bank governor Øystein Olsen.
---
Saturday, 19 November 2011

As Sweden is the leading economy and the industrial power house of the Nordic region, it becomes imperative to look at to how the Euro zone crisis plays in its operation.

---
More and more people in Sweden want to become engineers
Friday, 18 November 2011

The training of civil engineering is by far the most sought after of all university disciplines this year as various indications show that the demand for the discipline will explode in Sweden in the coming years.
---
Friday, 18 November 2011

The creative teaching model in Denmark is so unique that it not only regarded as the best tool in public service, but also a hardcore business resource.
---
Thursday, 17 November 2011

Blood Centre in the municipality of Sundsvall will defy the welfare board's decision on Monday which had passed the rule that increases the opportunity for gay men to donate blood.

---
Wednesday, 16 November 2011


Things are getting tough and the markets are getting cramp, as such, countries such as Sweden which used to shy away from doing businesses with regimes that are deemed corrupt and repressive regime reversing that.

---
Swedes don't care very much about falling house prices – some see it as a blessing
Wednesday, 16 November 2011
Falling house prices may be a cause for concern for the national economy but the Swede doesn't cares about it.

---
Billion of EU subsidies paid for regional
development has been plagued with errors

Tuesday, 15 November 2011

Much of the money the EU has been spending on regional aid is reportedly paid in error or lost in imaginative presentations, writes Swedish newspaper Svenska Dagbladet. The biggest culprits are Spain, Italy and Czech Republic.

---
Monday, 14 November 2011

More and more people in Sweden are watching TV over the internet while the traditionally television-guild restricted viewing is losing ground.
---
Monday, 14 November 2011


People have been queuing since 6 hours in the morning in front of the Norwegian court where the Norwegian mass murderer, Anders Breivik Behring would be defending himself of the killings and bombing he carried out a few months ago.

---
High level Racism rife in Finland, Authorities woke up and became surprise by the result
Sunday, 13 November 2011

Either out of touch officials or high level hypocritical Finnish politicians reacted on Sunday to report of a study which show that two thirds of Finns believe that there are very or quite a lot of racism in Finnish society.
---
Sunday, 13 November 2011

The precipitous fall in opinion
polls support the Swedish Social Democrats Party had shown in the last few months seem to be halting according to a look at the latest opinion polls.

---
Friday, 11 November 2011
Julian Assange, founder of the whistle blower site Wikileak is ob hins way to sweden to stand charges of sex crimes according to recent reports from various Swedish news houses
.
---
Friday, 11 November 2011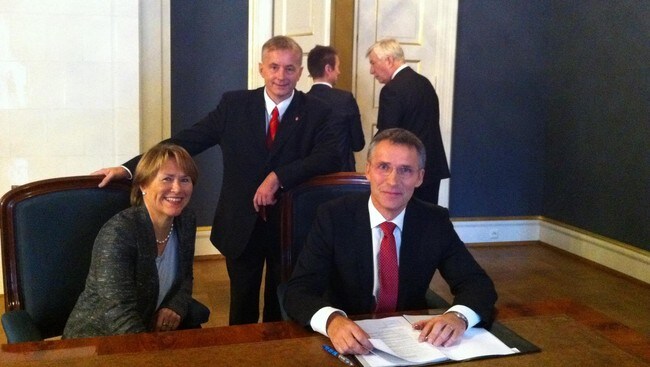 Norwegian Justice Minister, Knut Storberget resigns from the government, but the Norwegian prime minister says it is not due to the criticism that Storberget endured recently.
---
Friday, 11 November 2011

As we wrote recently, the Swedish government's interest is to offload Saab in any way possible and their push to that direction is eminent. Had they intervened earlier enough probably the company would have been running without the need for the Chinese to salvage its survival.
---
Friday, 11 November 2011

When the Nordic "tiger economy" begins to wane is when closer to 5700 people were given notice in October for sacking, according to the Swedish Employment Service. This is an increase of 4,800 compared to same month last year.

---
Sweden presents itself as the only EU country with budget surplus

Thursday, 10 November 2011

Sweden is the only EU country which is expected to have surplus in its budget for the next two years according to an assessment of the EU Commission in its autumn forecast.
---

Thursday, 10 November 2011

Exactly what the Swedish government wanted – that when people want to buy alcohol, the state should be the only one to cash from it.
---
Thursday, 10 November 2011

Supply of housing in Sweden has collapsed even though there is still high demand for it. But particularly, condominiums for sale in Stockholm have decreased in the number produced, and the trend in same in the whole country.

---
Thursday, 10 November 2011

The inflation rate was 2.9 percent in October (3.2 percent in September) according to latest Consumer Price Index (CPI), for October 2011 report statistic Sweden.
---
Wednesday, 09 November 2011

The Danish economy has really been performing poorly in the past six years, as the Danish companies exported less to the international market.



---
Wednesday, 09 November 2011

Venture capital companies behind the creation of the growing new pharmacy chains in Sweden such as Medstop, picture above, are locking their monies in tax free accounts outside of Sweden in a radical form of tax avoidance or tax management.

---
Tuesday, 08 November 2011

Many baby food products from the product brand Semper in Sweden have been withdrawn after it was found to contain traces of dangerous cancer-causing poisons.


---
Monday, 07 November 2011

Finland, Greece, Portugal and Ireland could withdraw from the euro single currency. As this happens, it could do good for those countries and strengthen the euro, according to reports.


---
Monday, 07 November 2011

The collapse of public opinion continues for the Swedish Social Democrat leader, Hakan Juholt persists and gradually becoming permanent. For Juholt himself, he is not worried
---
Monday, 07 November 2011

Swedish government is making a U-turn to earlier interest to open its borders for labour migration to the country and to instead tighten labour migration as from next year.

---
Sunday, 06 November 2011

The economic crisis in Greece means that mass unemployed young Greeks will be migrating elsewhere and recently it is reported that the amount of Greek immigrant to Sweden and other northern European countries in desperate search of jobs is rising.

---
How Swedish communes contribute to failing Swedish school system
Sunday, 06 November 2011

Why are Swedish schools performing poorly of late? The answer lies with the laxity of the Swedish communes and municipalities.



Sunday, 06 November 2011

Swedish far right party, Sweden Democrats have been authorized to broadcast local radio in Falkirk, something that has been seen by some people as a first step towards design more aggressive propaganda machinery.
---
Friday, 04 November 2011

Although most people thought that the miseries of Saab automobile is over as the Chinese step in to pump in badly needed money, there seem to still be a mission chip in the puzzle, GM.
---
Friday, 04 November 2011


About Christian Clausen, CEO of Nordea's luxury apartment which the bank, Nordea is providing and gilt-edged pension plan that has been widely reported, there is nothing in them that stirs Nordea's chairman Bjorn Wahlroos. He even said that he would on the contrary gladly raise Clausen's salary.
---

Friday, 04 November 2011
The Swedish Social Democrats continues to loose support in a new poll as the bad blood the supports have for the party's leader continue to push support away.

---
Thursday, 03 November 2011

Finnish European Affairs Minister, Alexander Stubb, has attracted concerns from fellow Nordic colleagues at a meeting of Nordic foreign ministers in Copenhagen on Wednesday.
---
Thursday, 03 November 2011


In ten years, the shortage of doctors in Sweden will be an issue of the past. Many Swedish students who are studying medicine abroad are now starting to come back. Meanwhile, the number of places in Sweden for the same subject has risen sharply in recent years.

---
Thursday, 03 November 2011
Swedish purchasing managers' index for services fell to 49.1 in October. In September, the index was 51.4.
---
Wednesday, 02 November 2011

Danish Royals, Crown Prince Frederik and British Prince William went in one car while the two women princesses, Danish Mary in the blue and Duchess Catherine in red, on Wednesday arrived together at the UNICEF centre in the East of Copenhagen to raise awareness about hunger catastrophe in East Africa.
---
Wednesday, 02 November 2011

Wikileaks founder Julian Assange has failed in his appeal against extradition from the UK to Sweden over allegations of rape and sexual assault.

---
---
---
---
As Swedish small business leaders get old, the sector is at risk of total collapse with massive loss of jobs
---
Swedish Defence Employees suspected of smuggling
---
Swedish Housing Credit Guarantee Board wants tougher requirements on real estate borrowers
---
Sweden leads in high corporate taxes
---
Wednesday, 30 November 2011
Credit rating agency Standard and Poor's on Tuesday lowered the credit rating for 15 large banks, mainly in Europe and USA.

---
Tuesday, 29 November 2011

A third owner may be heading into the Saab Automobile business and could be able to untangle the knot the company is tied into right now

---
Monday, 28 November 2011

Volvo Cars wants to hire more than 10,000 people to achieve its business objectives in which by 2020, it would reach its target of selling 800,000 cars a year.
---
Saturday, 26 November 2011

One unresolved business venture which the Danish government attempted was its investment in the rail business with the Scottish transport company First. After forming the DSBFirst and pumping millions of Danish Krona in, the company has gone bust.
---
---
Monday, 21 November 2011

Vehicle Group AB Volvo launched a process aimed at selling its Volvo Aero, division which focuses on the manufacture of aircraft engines.

---
Monday, 21 November 2011
Sweden has the lowest proportion of managers under the age of 40 years when one examines similar situation throughout the EU.
---
Monday, 21 November 2011
Norwegian oil and gas company Statoil Asa (STO) Monday announced plans to divest $1.625 billion worth of upstream assets on the Norwegian continental shelf to U.K.
---
Friday, 18 November 2011
Swedsh banking group, SEB reports that it is selling its retail business in Ukraine to Euro Bank group.

---
Friday, 18 November 2011
D
enmark leads the league of countries where companies often seek bankruptcy protection or where companies easily collapse.
Troubled financial institution, Northern Rock sold to The Virgin empire
---
Swedish companies loosing grip in the South East Asia region
Thursday, 17 November 2011
A new survey by the Swedish Trade Council shows that Swedish companies are losing market share in Asia.
---
Wednesday, 16 November 2011
Volvo Cars sales fell slightly in October to 0.3 percent, the most recent October statistics for the EU and EFTA countries show according to data from trade association ACEA.

---
Swedish Government subvention to Facebook increases sharply – giving more to those who have
Tuesday, 15 November 2011

Facebook twisted the arm of the Swedish government and forced it to increase its subvention to the social media company from Skr 30 million to Skr100 million.

---
Monday, 14 November 2011
The proportion of traders who believe that retail sales will increase in the coming months is still lower than the proportions who believe that sales will decline.
---
Friday, 11 November 2011

Discount chain Lidl is in Sweden to stay and grow according to its Sweden manager, Werner Evertsen in an interview with the Swedish business daily, Dagens Industri, castigating previous rumours that the company was planning to pull out of Sweden.
---
Blackberry trying to crack a tough Scandinavian market
Thursday, 10 November 2011

Blackberry is the name of the phones, most people in the Scandinavia have seen or heard of but very few have kept it. It wants to make a strong move to entre the tough Scandinavian market.
---
Thursday, 10 November 2011
---
Thursday, 10 November 2011
Forest Group SCA acquires Georgia-Pacific's tissue business in Europe. The price tag amounts to Skr12.6 billion, according to a press release from the SCA.

---
Thursday, 10 November 2011
Clothing Company Bjorn Borg made a profit before tax of Skr32.7 million for the third quarter, though the company reported Good brand sales during the quarter.
---
Youngman has not given up on their quest for Saab
Wednesday, 09 November 2011
Saab Automobile's prospective new owners Youngman and Pang Da continued on Wednesday to discuss with Saab's management on other possibilities of doing business together.

---
Volvo to test electric cars in Shanghai
---
Wednesday, 09 November 2011

---
Ericsson Aims To Increase Revenue From Patents
From External source

---
---
Tuesday, 08 November 2011

Saab Automobile business with the Chinese Youngman and Pang Da is reeling from GM's negative attitude towards it. At the same time the Chinese companies' financial muscle is being challenged.
---
Tuesday, 08 November 2011

T
he European Commission on Tuesday visited SKF's facilities in Gothenburg and in Germany Schweinfurt, to gather information for an investigation into possible anti-competitive collusion between some manufacturers of bearings.
---
Tuesday, 08 November 2011
Flight group SAS reported a profit before tax of Skr276 million for the third quarter, compared with a loss of Skr1.027 million same periods last year.
---
Skanska in Brazilian billion power plant construction orders

Monday, 07 November 2011
Skanska has secured an order for power plant construction in Rio de Janeiro, Brazil. The order is worth around Skr3.2 billion.
---
Friday, 04 November 2011
The CEO of Elgiganten told the Swedish press last week that low priced

competition Media Markt is dancing towards bankruptcy just like Onoff after loosing lots of money but yet opening more store branches. Then Media Markt boss sneer back at Elgiganten and tell

them to mind their own business. Some people see this as a new form of market bully tact. Is it?
---
Friday, 04 November 2011
The number of corporate failures Sweden fell by 1 percent in October. So far this year, the number of bankruptcies fell by 4 percent over the same period last year, according to statistics from credit agency, UC
.
---
H&M to be challenged in Sweden by another clothing giant UNIQLO

Thursday, 03 November 2011

Clothing giant Uniqlo is on its way to Sweden to challenge the local brands such as H&M and others such as Kapp Al.

---
Thursday, 03 November 2011

Many Swedish people own most of he various Apple products but there is no major Apply store here as seen on other places such as the UK or Germany. Indications now stand there could be a new apply store here soon.
---
Wednesday, 02 November 2011

In October, Volvo Cars sold more than Twenty-two percent more cars in the U.S. than in October last year, in Canada, the increase was thirteen percent.
---
Tuesday, 01 November 2011
Danish giant bank, Danske Bank warns of job cuts - that some 2,000 jobs will disappear within the group in the next three years.
---
Monday, 31 October 2011

More than half of the banks in the Baltic banking sector are Swedish. But Minister Swedish Financial Markets, Peter Norman would want to see that a larger share of banks in Estonia, Latvia and Lithuania should be domestic.
---
Monday, 31 October 2011

Relating to the news reports today which supposes that Swedish telecom giant, Ericsson sold hi-tech locating radar equipments to the tyranic Iranian regime, Ericsson has counter the claim and rejects the accusations.
---
Monday, 31 October 2011

Swedish telecom giant, Ericsson, sold high level advanced surveillance equipment to the Iranian regime described in the west as dangerous to its people.
---
Friday, 28 October 2011

The uncertain economic situation has started forcing banks from lending to companies according to a so-called credit barometer carried out by the bank, Danske Bank.
---
Thursday, 27 October 2011

New Nokia Windows models, the Lumia 800 (left) and the Lumia 710.
Image: Nokia

Some analysts believe that the launch of the new smart phones by Nokia would see the firm returning to its glorious lead in the market but with its shares wobble in yesterdays' launch, question still remains as to how far the company will go to regain its leading position.

---
---